Alongside the launch of the 2019 iPhone 11 range, Apple have rolled out the latest revision of their iOS – iOS 13.
iOS 13 features a whole new look via the Dark Mode feature, as well as a major overhaul to the apps you use on a day-to-day basis, and general performance improvements across the whole handset. Check out our iOS 13 Features and Changes summary below for more details.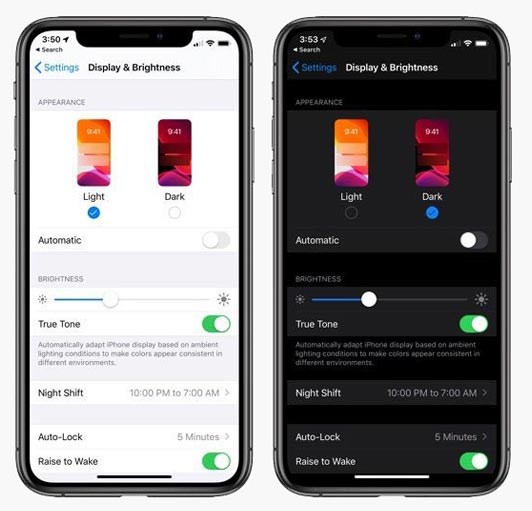 Dark Mode introduces a new dark colour theme designed to make every element of the screen easier on your eyes. The colour scheme can be scheduled to change depending on the time of day or can be toggled on or off manually.
To enable Dark Mode go to: Settings > Display & Brightness > Select the 'Dark' option.
The photos app has received a re-work which now systematically stores your photos based on a range of new criteria – i.e. date (year, month, day) or by a photo trait (winter, dining, Christmas).
For all iPhones which support Portrait photos, all new Portrait Lighting Controls have been added, as well as an all new monochromatic portrait effect. iOS 13 also adds loads of new editing tools for photo and video editing directly from your iPhone.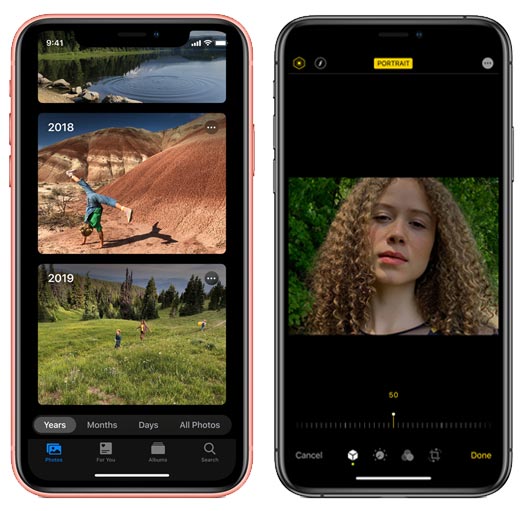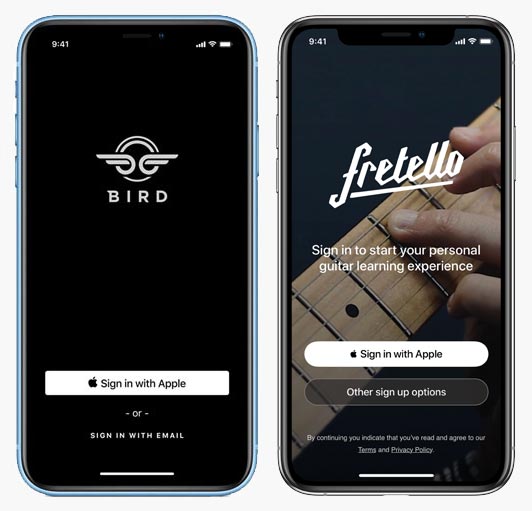 iOS 13 features a new security method which allows you to sign in to apps and websites using your Apple ID details.
Rather than creating a new account and compromising your data to every app or website you wish to use; your Apple ID will generate a random email/password to ensure your details remain hidden.
Find out more here: Sign in with Apple on iPhone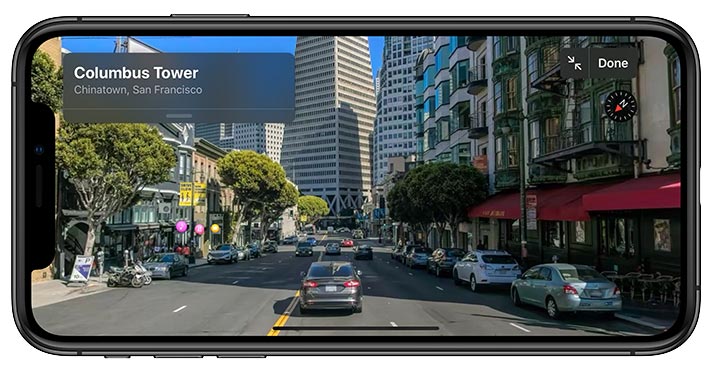 A new immersive 3D experience has been added to Maps allowing you to seamlessly navigate with a 360 degree view of your route. This feature is currently limited to US cities, with more locations being available from 2020. The level of detail within the map is gradually being rebuilt, showing exactly where each building is in each city. iOS 13 also introduces the ability to store collections of places – i.e. must-see spots and places – which you can share directly with your friends and family.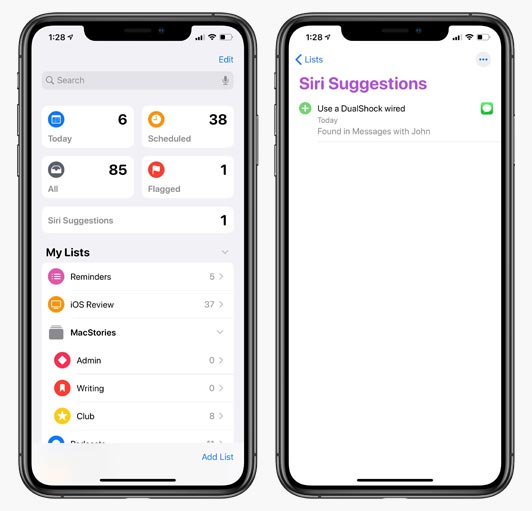 Siri can communicate more effectively with apps with the new built-in Shortcuts application – Shortcuts can be used to automate several tasks and activities such as setting daily alarms, or a reminder to do a certain task.
Siri is now able to read incoming messages aloud through AirPods so you don't have to stop what you're doing to read your messages.
Find out more here: Add Siri Shortcuts on iPhone
Other Noteable iOS 13 Features:
AirPods: iOS 13 introduces Audio Sharing for AirPods; two pairs of AirPods can be synced to one devices enabling you to enjoy the same song or film with a friend.
Memoji and Messages: Personalise your Memoji with the whole new hairstyles, headgear, makeup and piercings – create a highly realistic avatar of yourself, or someone else, in a matter of minutes. Memojis can be sent as stickers via Messages, Mail and other third-party messenger apps.
Share Your Name and Photo: Control how other iOS users see you by choosing our name, photo, or Memoji which they'll see when they send or receive a message from you.
QuickPath Typing: iOS 13 introduces a new quicker typing method which allows the user to swipe from one letter to the next to form words and phrases.
Performance: iOS 13 is even quicker than its predecessor – iOS 12. Face ID reportedly operates 30 per cent faster than before, apps launch twice as fast with their file sizes being considerably smaller in download size.
To find out if your iPhone or iPad supports the latest version of iOS, please check the list of compatible devices below:
iPod touch (7th gen)
iPhone 6s
iPhone 6s Plus
iPhone SE
iPhone 7
iPhone 7 Plus
iPhone 8
iPhone 8 Plus
iPhone X
iPhone XR
iPhone XS
iPhone XS Max
iPhone 11
iPhone 11 Pro
iPhone 11 Pro Max
12.9-inch iPad Pro
11-inch iPad Pro
10.5-inch iPad Pro
9.7-inch iPad Pro
iPad (7th generation)
iPad (6th generation)
iPad (5th generation)
iPad mini (5th generation)
iPad mini 4
iPad Air (3rd generation)
iPad Air 2