ISDN switch off and how it may affect your business
The ISDN Switch off is coming, but don't worry there's plenty of time left.
We've put together some frequently asked questions to help your business prepare.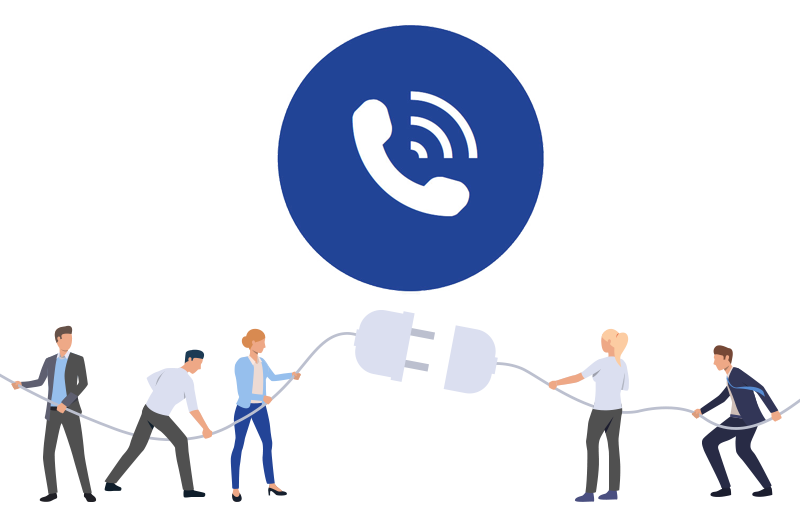 I've not heard about an 'ISDN Switch Off' what is it?
A few years ago, BT announced a decision to switch off their legacy ISDN and PSTN lines by 2025. If your business is still using legacy voice technologies, then it's time to consider your options. Although 2025 may seem far from now, the ISDN switch off has already begun. As of 2020, BT are no longer taking new ISDN orders.
ISDN stands for Integrated Services Digital Network and is a common way for businesses to make telephone calls using traditional Public Switch Telephone Networks (PSTN). It was launched in 1986 to move traditional landlines over to digital, allowing data and voice to be transferred over the same line.
So what will ISDN be replaced with?
BT will move to an IP (Internet Protocol) network to utilise VoIP (Voice over Internet Protocol) and SIP (Session Initiation Protocol), although BT will be focusing on VoIP . We have an article that explains VoIP in detail here, but in a nutshell VoIP doesn't run over a traditional line, instead it works via an internet connection.
There are several reasons BT are doing this, but the main driver is cost, which is good for businesses as a VoIP solution can save you money as well as adding increased functionality and flexibility.
What should our business do to prepare for the ISDN switch off?
If your current ISDN solution is out of contract now is the time to look at either VoIP or SIP.
SIP:
SIP – Session Initiation Protocol – is essentially a modernised version of the ISDN network which uses virtual phonelines rather than physical phonelines. SIP allows users to make and receive voice and video calls via a data connection typically for a fraction of the cost to make or receive calls via ISDN.
If you have an on-site PBX and it's relatively modern, you may be able to utilise your previous equipment with a SIP telephony solution. However, your equipment will still need to be maintained (which can be quite costly) and some technical knowledge of how the system works is required.
Pros:
Highly customisable.
Makes the transition from ISDN to IP a little easier.
May be able to utilise existing on-site equipment.
Cheaper than ISDN.
System is the need for a reliable internet connection.
Cons:
Equipment maintenance costs.
Technical knowledge required to make changes.
On-site equipment replacement/upgrade costs.
Hosted:
A Hosted Telephony Solution – also referred to as 'Hosted VoIP', 'Cloud Calling' or 'Cloud Hosted Phone System' – is a cost-effective alternative to SIP which requires no on-site equipment, no costly maintenance fees and minimal capital outlay.
Hosted systems are solely cloud-based and utilise an internet connection (like broadband and 4G) to make and receive HD calls.
Pros:
Flexible and scalable.
Includes all of the features you'd expect on an ISDN network with a variety of advanced features such as call recording, video conferencing, voicemail to email.
Any changes made are made instantly in real-time.
Business continuity re-routes calls in the event of an outage or disaster meaning you won't miss out on important business.
No capital outlay.
No maintenance costs.
Low monthly user subscription fees.
Cons:
The only real con for taking a hosted system is the need for a reliable internet connection.
Is your internet connection suitable for VoIP?
VoIP doesn't use much data, but you'll still need enough bandwidth for your voice calls on top of all your other internet activity.
There are purpose built broadband solutions for VoIP that either offer a dedicated broadband connection that runs alongside your standard broadband which is just for VoIP (often referred to as Assured Broadband) or a broadband connection that supports all your internet usage over one connection (Converged Broadband).
Converged Broadband differs from your standard broadband by automatically prioritising VoIP Calls over your normal day-to-day internet usage, ensuring reliable and clear calls.
Want to talk about switching from ISDN today?
If you are out of contract with your existing ISDN provider and want to switch to a Hosted VoIP solution, we'd love to help. Even if you are still just considering your options, we'd still be happy to answer any questions or concerns you may have regarding the ISDN switch off.