Top 5 Apps To Boost Business Productivity
Today's app marketplace is flooded with thousands of the same application-type, and finding the best app isn't necessarily easy.
That's why we've compiled a list of our top 5 most useful apps which our colleagues use at least once a week, with some being used on a day-to-day basis.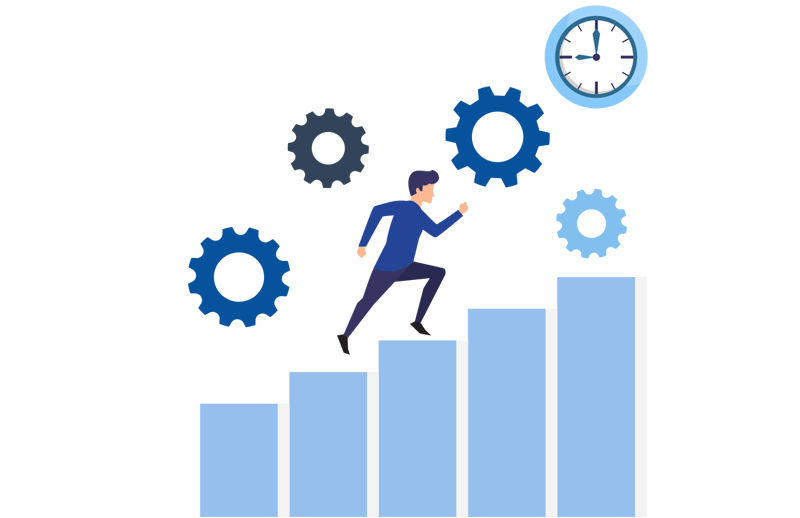 Notes Organiser & Planner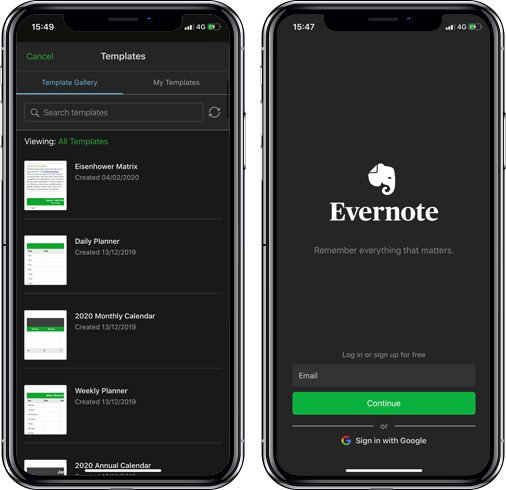 Evernote is an application designed for note creating and organising and is used by over 200 million people worldwide. This application can be used for free or can be upgraded to premium for a monthly subscription which unlocks various different features.
When using a free account, you're given various templates to use when starting a new note; a reminder, record an audio message, add an attachment, sketch, take a photo, or create a blank note. Your notes are stored via cloud storage and can be accessed from multiple accounts, meaning any notes created on your desktop application can be accessed on your mobile device – this is a perfect application for creating meeting minutes, creating reminders for when visiting clients, or just general note taking.
Evernote allows you to create collaborative notes with friends, families, and colleagues, making it a perfect application for team working exercises, or for sharing thoughts and ideas with one another. Changes made to collaborative notes are updated in near-real time to the other authors, meaning you can share your ideas instantly. The main reason we favour Evernote over other note taking applications is for two key reasons; you can use it for free, and it can be used cross-platform with iOS and Android users, as well as PC and Mac.
More info available at https://evernote.com/ or on your iOS/Android app store.
Google Docs, Sheets and Slides
Write, Edit and Collaborate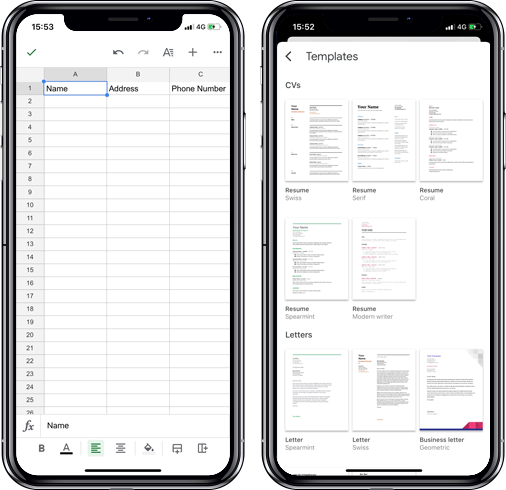 The Google Apps suite is a cloud-based application suite similar to the likes of Microsoft's Office. You may be wondering why we're mentioning Google rather than Office. Well, Google's apps are free to use for sole traders and small businesses, and reasonably cheap for businesses, and similarly to Evernote, can be used to create collaborative documents. Multiple authors can be added to each document, with changes appearing in real-time on the other authors' monitors as they're made.
Google Docs is a direct competitor to Microsoft word. Docs allows you to install add-ons through your Google account to add enhanced features to your workspace. Our technical support team use the LucidChart add-on to create easy-to-follow call flow charts when provisioning new cloud-based solutions. Once we've create a call flow, we're able to share it directly with our clients by simply inputting their email addresses and sending them an invitation; this allows them to add comments to the document and enables us to answer any queries they have very easily. Google Slides and Google Sheets are the competitors of Microsoft's PowerPoint and Excel. As with Docs, these projects can be worked on by multiple authors.
The great benefit of using Google's App suite is that despite being free, they can be exported/downloaded in Microsoft's formats, so you can export a Google Docs as a Word document, and likewise with Slides and Sheets, meaning non-Google users can also view your work. You're also able to work on documents whilst offline, with changes uploading to the cloud when an internet connection resumes (this does not apply to collaborative documents). These apps are available on iOS, android, and can be used by visiting the Google website.
More info available at https://gsuite.google.co.uk/intl/en_uk/ or via your iOS/Android app store.
Simpler Social Media Tools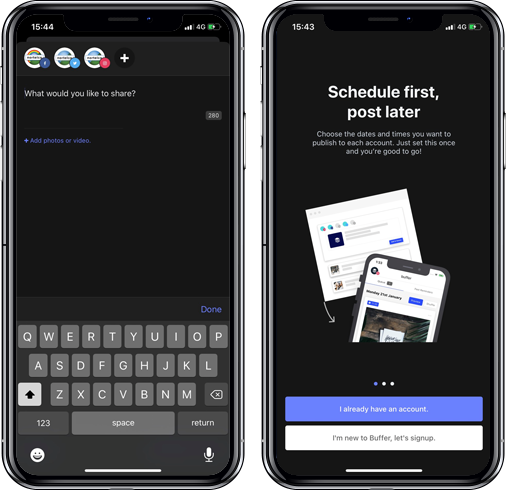 Buffer is a free-to-use social media post scheduling platform which allows you to connect up to 3 social media accounts – more accounts can be added when upgrading to Premium. Buffer is exceptionally useful for smaller businesses who do not employ – or outsource – their digital marketing as weeks' worth of content can be created and scheduled for publishing, meaning rather than thinking of new content to publish on your social accounts on a daily basis, you can sit down for one day and plan out, create and schedule the following months content.
Buffer is available on iOS, Android, and via an easy-to-use web portal, making it suitable for such a wide audience. The premium version of Buffer provides in-depth analytics allowing you to monitor your business' social media growth very easily by tracking reach, impressions and various other things. The backend system will also calculate the optimal time and days to post in your industry based on your posts performance, and posts using similar hashtag identifiers.
More information available at https://buffer.com/ or via your iOS/Android app store.
Password Manager & Vault App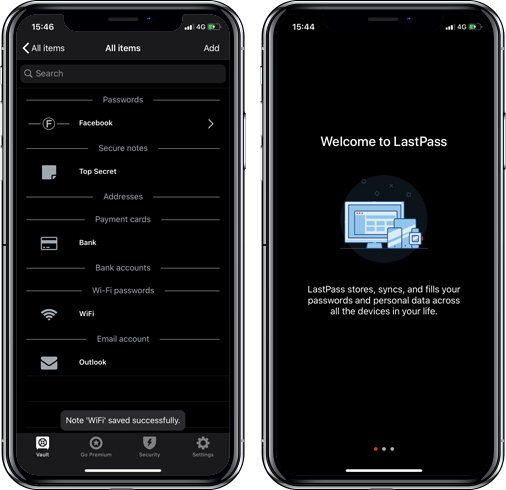 LastPass is a password manager that stores encrypted passwords online – this app is available for free or can be upgraded to premium to unlock additional features. As well as storing passwords, LastPass can be used to generate new secure passwords for you too. A password manager doesn't just store passwords; it can be used to store secure information such as PIN codes, identification numbers, addresses and credit card information.
You may be wondering why you'd use a password keeper at all. Well, LastPass provides three essential benefits: enhanced security, convenience, and efficiency. Despite the number one recommendation when it comes to passwords being to use unique passwords for every account, a lot of people ignore this advice because they find it too difficult to remember which password relates to which account. By using LastPass password manager, when you go to login to a website, the add-on will automatically populate the user fields, or alternatively you can login to LastPass to retrieve your password.
Passwords can also be shared amongst different accounts. To share a password, you launch the LastPass vault and find the password you want to share. Once selected, you simply hit 'Share', type the recipients' email and they will be able to access the password within their LastPass account. Sharing passwords is particularly useful within departments of your business. For instance, the technical support team may share various tester account details via the LastPass vault, or server login credentials.
More information available at https://www.lastpass.com/ or via your iOS/Android app store.
Voice Calls, Instant Messaging, Audio and Video Conferencing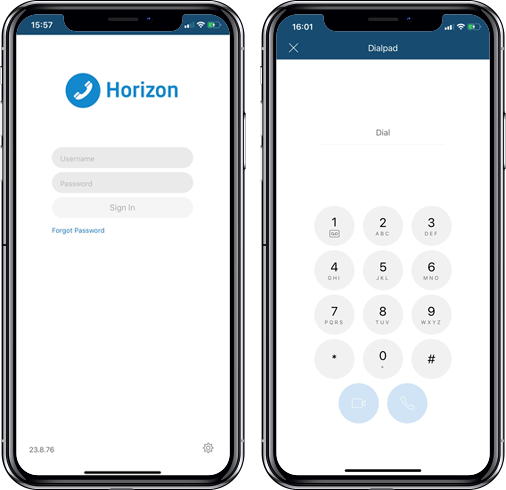 Collaborate is an extension to Horizon – our cloud-based phone system – which enhances Horizon into a truly unique Unified Communications system. Using the Collaborate app – which is supported by iOS, MacOS, Android, and Windows – allows you to be accessible to your customers at all times. As long as you have a reliable data connection, meaning either broadband or 4G, inbound calls to your main office number and DDIs will be routed to your mobile phones as well as your physical desk phones.
As well as providing a portable-phone system, Collaborate also includes meeting rooms and instant messaging. The Instant Messaging feature can be used internally as a way of colleagues keeping in touch with each other, as well as offering video calling as well as voice. In terms of meetings, meeting rooms can facilitate up to 15 video callers, or 50 audio-only callers. Meetings can be shared to people outside of your business via a dial-in number accessed with a meeting ID number, or via the guest sharing link provided within the Collaborate platform.
Collaborate is the perfect app to provide a truly remote working system to your employees, meaning that business can always continue as normal in the event that the office has to close. Our customers already had the ability to work from home during the COVID-19 outbreak as we always stress the importance of business continuity.
More information available at https://nortelco.co.uk/unified-communications/ or get in touch!