Finding the best business mobile phone/tariff
We all understand how important mobile phones are to us in today's society and finding an appropriate phone contract for personal use is relatively straightforward for the majority of us; you pick the phone you want, a tariff with sufficient data and any add-ons you might need.
But what do you need to look out for when picking a business mobile phone and tariff?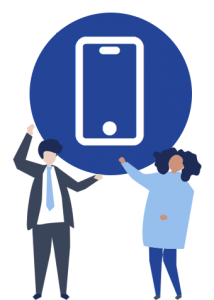 The first thing to consider when choosing hardware is your business type, your budget, and the image you're trying to build for your company.
If you're working in a talent agency or as a sports agent then you may consider using a premium handset such as the iPhone 11 Pro to fit the luxury environment you work in. However, if you're working on a building site – or have any hands-on job where you're exposed to risk – then you need your device to be the most appropriate for your working environment.
We find a lot of our customers in heavy duty industries tend to go for a HAMMER rugged phone, specifically built to provide smartphones capable of withstanding high impact drops, as well as extra protection to dust and water exposure.
The most appropriate tariff for your business depends on a number of factors. Depending on your usage – in terms of data, roaming, and international calling – you need to consider which networks offer the best bolt-ons to lower the cost of your usage.
As an independent company, we offer solutions on all of the major UK networks, meaning we can select the most cost-effective bolt-ons to match your requirement.
We're also able to offer a tariff on the network with the best coverage in your business area and offer SIM only and hardware inclusive options.
We're finding a lot of our business mobile customers are opting for our hardware leasing option. Hardware leasing is a great way of reducing the monthly cost for your business mobiles as leasing options can be used to offset the tax paid on your devices, therefore reducing the total cost.
Leasing makes it possible to always have the latest devices; you can control the duration of your contract and your monthly spend.
Although we all like having the latest technology and having nice things is an indication of success in our society, there are a lot of mid-tier phones that have the perfect balance of affordability and image. For example, Apple's latest iPhone SE (2020) offers the same high-end performance found in the iPhone 11, but shares the same casing as the iPhone 8, therefore making the price considerably cheaper. In fact, the new SE is one of our most recommended devices for businesses as it sports dual SIM compatibility, making it ideal for BYOD (Bring Your Own Device) policies.
The biggest worry people have is making sure their employees have sufficient data to accommodate their usage across the month.
In order to ensure we offer the best possible plan, our experienced sales team will always ask for your latest bill – or from a 3, 6, 9, or 12-month period – from your current provider and will complete an analysis to calculate each user's average data allowance .
We also find shared data pools are growing in popularity, though these types of solutions can be more expensive. This is a product we do have available on multiple networks.
This is where Nortelco comes in. Our experienced sales advisers will take the time to understand your businesses requirements, your budget, and your employee's expectations. Unlike going direct to the network, we won't just offer you an out of the box package. We'll take the time to carefully build a bespoke plan for your business to ensure you're getting a competitive deal, but that's not all. Our customers can tune into a whole host of benefits, more of which can be found here. If you'd like one of our team to produce a bespoke quote for your business, get in touch today here.